We are just the ordinary people struggling and working for our family's needs everyday. We stage our protests out of our courage to fight against the dictatorship. We are not well-funded, well-supported nor well-organized. Against all the odds and all the bullets from the soldiers rifles, there are monks, students and people out there in Burma marching and sacrificing their lives for what they believe and what they have been longing for - free Burma where everyone is free from fear, free from dictatorship, free to think, free to express one's belief, free to do a business and free to have a control over one's own life.
Support from every single Burmese
We still have Burmese watching TVs and playing games when the protestors are dying on the streets of Burma.
We need support from every single Burmese. You may be a student or housewife but you can't say you are not interested in politics. Burmese politics is not only for the Burmese politicians but also the business of every Burmese because it has the direct effects on you and your family. Let's leave the most shameful and unjust happenings in Burma, we have a very simple example of how dictatorship has direct impacts on every Burmese daily life. Most of us are working or studying in foreign countries away from our beloved friends and family. We have to be separated from our beloved ones because of the situations in Burma. That's just one of the direct impacts of Burmese dictatorship on our daily lives.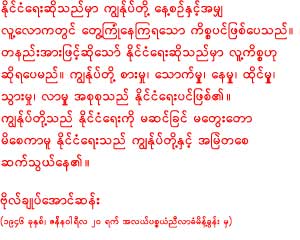 United we stand, divided we fall
Since the Burmese independence, we have tens of political unions, associations and armed-forces. So, why are we still under the dictatorship? The problem is that all those political unions and armed-forces are not united. When Shan politicians are struggling for the independent Shan state, KNU is in war with the Burmese army for the freedom of Karen. When ABSDF is struggling outside Burma, NLD is protesting against the junta inside Burma. Now, we have ABMA (All Burma Monks Alliance) and we will have more in the future but we all are fighting against one organization led by dictator. We have more than enough political organizations. All we need is to work as one. United we stand, divided we fall!.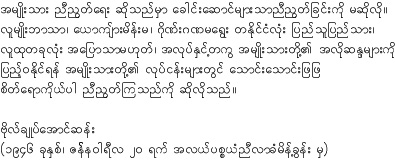 Success of being united
Since the start of our martyr monks protests against the junta last week, we have protestors on the streets, celebrities walking along the monks, donors from overseas, prayers all over world, bloggers sitting in front of computers and updating news every single minute and the informers risking their lives at the gun-points of the riot polices. As a result, the whole world is watching Burma and the junta is deeply threatened and scared of losing their power now.

1) This campaign is for every single people living in Burma, born in Burma or who loves Burma. All Burmese are obligated to support the protests for the free Burma as it's for the sake of every single Burmese. We need fighters, prayers, monks, organizers, writers, celebrities, hawkers, engineers, students, teachers, workers and every one to reach our dreamland, free Burma.
2) United we stand, divided we fall.
3) Please be united and do discuss closely, plan and fight against the dictatorship as we are fighting against an armed-forces which is well-funded, well-structured, well-trained and led by a group of people who have lost their common sense of justice in the lure for the power and wealth.